Become a foster carer
Could you look after a child who can't live at home?
We're backing Foster Care Fortnight 2021
We'll be supporting the Fostering Network's national Foster Care Fortnight campaign (10th to 23rd May), with lots of contributions from the team about #WhyWeCare and a new outdoor advertising campaign across Sandwell.  Our message is simple, we already have some brilliant foster carers in Sandwell, we just need more of you to step forward and join Sandwell's biggest family.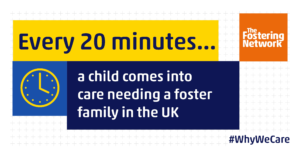 2021 live information events go virtual
We're now holding regular online fostering information events that you can join from the comfort of your own home.  All our fostering information online events will be on the Microsoft Teams platform, but you can join without having to download a new app or any software.  It's just like Zoom or What's App or FaceTime and it's a chance to meet the team, hear from experienced foster carers and ask your questions about fostering for Sandwell. 
Next live event:
Saturday 22nd May at 11am
So if you want to join us online, just contact us to request an online meeting link.
You can do this by calling us on 0800 358 0899 or by clicking on the 'start your fostering journey here' button to send us an email.  The events will last between 30-45 minutes… come and join us, from the comfort of your own sofa!
Thinking of fostering…why Sandwell?
Well if you live in or around Sandwell, here's what we have to offer.
The children in our care only come from Sandwell, which is why we want carers from in and around the borough too. Sandwell Children's Trust is the fostering service for Sandwell Council. We only work in Sandwell and we want people in, or close to, Sandwell to help us to care for Sandwell's children.
We work directly with Sandwell Council, that means we will always try to place the children in our care with one of our foster carers first. That means we have the best chance of finding the right child for your home.
If you foster with Sandwell, then you become part of a team. Everyone at Sandwell Children's Trust will be working with you, giving you the support and training you need to become a confident experienced foster carer who can make a difference to children's lives.
Oh, and in case you're wondering, we are a not for profit fostering service. No shareholders, no dividends to pay out. All of our resources are invested into our work caring for Sandwell's most vulnerable children – and we're proud of that!
Can I be a foster carer?
If you have the time, patience and energy to provide children with a safe and caring home, then you could become a foster carer.
You will need:
a spare bedroom
time and flexibility to care for children
patience and resilience
to be able to work with professionals.
There is no such thing as a typical foster carer. Like the children you look after, foster carers are all different and come from all sorts of backgrounds.
You can be married, single, or living together. You can be in a same sex relationship. You can be employed, unemployed or retired. You might already have children, or you might not. You could be living in your own home or a rented property.
We welcome applications from all ethnic, cultural and religious backgrounds as we want our foster carers to reflect the diversity of Sandwell and the surrounding areas. 
You will receive full training, support and payments to cover the costs of providing a stable, secure home.
Start your fostering enquiry here
If you're already fostering with an agency, but would like to foster for us directly, we'll fast track your enquiry. As an approved foster carer, we will make your application a priority; just click the link to tell us about yourself.
Fostering News
We are always actively seeking new applicants to become foster carers, but our live recruitment events have been moved online in view of the current public health situation with the Covid19 outbreak.  Along with our new online fostering information events we also have this discussion podcast which you can listen to – or even watch – here SCT Podcast #1 video or for the audio version, here SCT Podcast #1 – audio
It covers some of the common issues raised in our live fostering information events – we hope you'll find it useful!
In the meantime if you are looking to start your journey to become a foster carer, or if you just have questions for us, you can always contact us.  Just click the 'start your fostering journey here' button on this page to send us a message and we'll get back to you.
For more information
If you want to know more about being a foster carer in Sandwell take a look at our foster carers handbook, or take a look at the downloads section at the foot of the page.
You'll find our current Fostering Information Leaflet, the Foster Carer's Guide to Progression and our payments guide available for download below.  You can also see our Certificate of Carer Membership 2021 – 2022 from Foster Talk, which outlines some of the benefits our carers get as members of Foster Talk.
If you do have questions – please don't hesitate to call us on 0800 358 0899, during office hours to speak to one of the team. Or during the evenings or at weekends just leave us a message and we'll get back to you.
---