We serve a purpose
You've probably heard that the Sandwell story is being rewritten. Following several years of inadequate ratings we created Sandwell Children's Trust in 2018 and have gone from strength to strength.
We embarked on this journey with a clear purpose – simply to improve the lives of children and young people in Sandwell. This purpose and the values that sit alongside it were developed with the help of our staff, our partners and of course the children and young people we support. It really is at the heart of everything we do!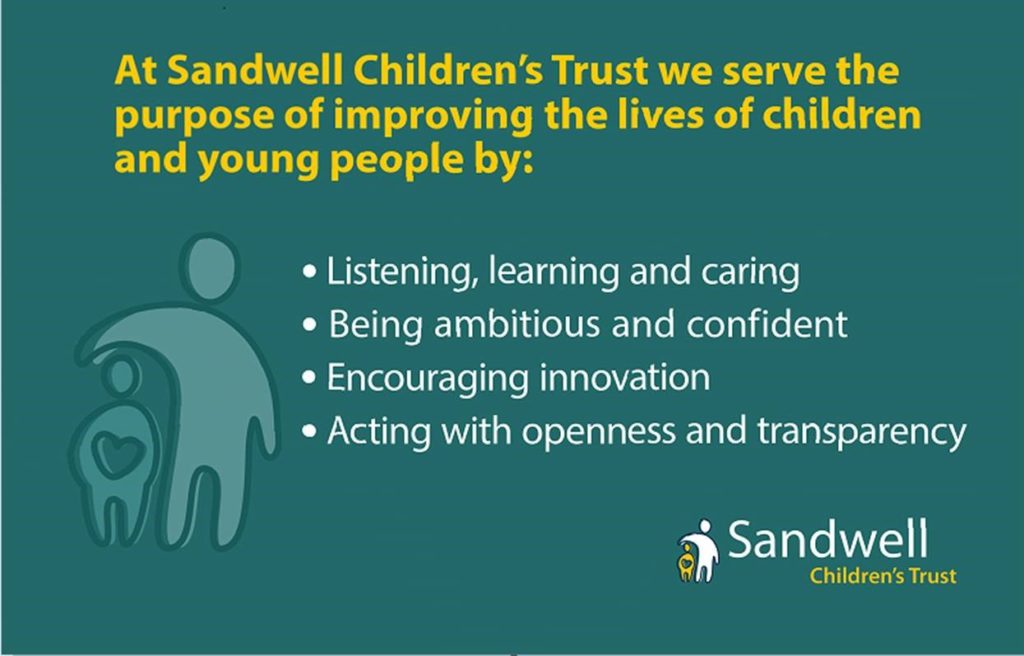 All voices are heard
When you join Sandwell you will quickly see that we value collaboration and discussion. We have an inspirational leadership team and an incredibly supportive board – chaired by Rt Hon. Jacqui Smith who brings a lifetime's experience and wisdom to the role.
We have representative staff forums that enable us to tailor our services to best meet the needs of the communities we work with, we know that together we are stronger and are proud to have nurtured a truly inclusive culture. 
It's not just our staff that are shaping our future, our innovative approach to participation means that we create countless opportunities for children and young people to have a voice, we work together to co-design our services, co-interview and even co-chair our Corporate Parenting Board.
We can't do it alone
At Sandwell we understand the importance of partnerships and are fortunate to work alongside some fantastic like minded organisations including Sandwell Council, Sandwell Safeguarding Children's Partnership and our regional adoption agency Adoption@Heart. We have developed meaningful relationships across the Black Country and beyond…from the voluntary and charity sector through to our regulators, we are all pulling in the same direction to serve our purpose.
We innovate and create
Everywhere you look in Sandwell you will see new ideas. Whether it's our comprehensive Practice Framework or the inspirational work that takes place with our youth offending teams, there really is something in the air at Sandwell that encourages fresh thinking. We often refer to the 'permission' that we have to think outside the box…one of the very best things about being a Trust!
We are there for each other
It is often said that Sandwell is like a family, and like all families when things time are tough we wrap our arms around each other. As well as the formal support networks like employee counselling and reflective supervision, we genuinely show compassion. We know that social work can be hard, we give each other the time and space that we need.
Have a look around our website, check out the benefits of working with us and get in touch for a chat. Sandwell has so much to offer…help us write the next chapter of our story.
---
Click on the links below to see the latest feedback from our regulators