Become a foster carer
Could you look after a child who can't live at home?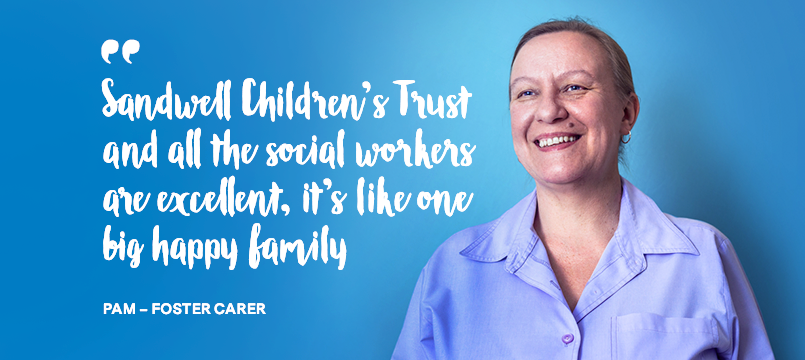 Can I be a foster carer?
If you have the time, patience and energy to provide children with a safe and caring home, then you could become a foster carer.
You will need:
a spare bedroom
time and flexibility to care for children
patience and resilience
to be able to work with professionals.
There is no such thing as a typical foster carer. Like the children you look after, foster carers are all different and come from all sorts of backgrounds.
You can be married, single, or living together. You can be in a same sex relationship. You can be employed, unemployed or retired. You might already have children, or you might not. You could be living in your own home or a rented property.
We welcome applications from all ethnic, cultural and religious backgrounds as we want our foster carers to reflect the diversity of Sandwell and the surrounding areas. 
You will receive full training, support and payments to cover the costs of providing a stable, secure home.
Start your fostering enquiry here
If you're already fostering with an agency, but would like to foster for us directly, we'll fast track your enquiry. As an approved foster carer, we will make your application a priority; just click the link to tell us about yourself.
Foster carers handbook
If you want to know more about being a foster carer in Sandwell take a look at our foster carers handbook.
News update
Another busy night at Wednesbury library for our June 'Foster With Us' event – thanks to everyone who came along, it was nice to meet you all! 
Thanks to Pandora Christie & the Fostering Network for their brilliant video 'Fostering changed my future' which you can still see online here, while on this page we've gone back to our 'Truth Be Told' video, which got a great response when it was launched earlier this year.
Our next information event is at at the Coneygre Youth Arts Centre in Tipton in July.  So if you'd like to talk to our team, meet some of our foster carers and sit down for a one-to-one conversation about how you could foster with Sandwell, the details are:
Wednesday 17th July at 6.30pm
Coneygre Youth Arts Centre,
Sedgley Road East
Tipton, 
DY4 8UH
If you can't make it in July, don't worry.  We'll be continuing our regular 'Foster With Us' information events all over Sandwell, all through the year. 
'Foster With Us' events are free to attend and you don't need to book in advance. 
So, if you're thinking about fostering, why not come along to find out more?  We'd love to see you there –  and we'll bring the tea and biscuits! 
But if you can't wait, just click the 'start your fostering journey here' button, on this page and we'll get back to you.