Work with us
There are lots of great reasons to work with us in Sandwell Children's Trust. From a generous rewards package to a culture of learning and development…Sandwell Children's Trust is the place to grow your career and feel part of a great team.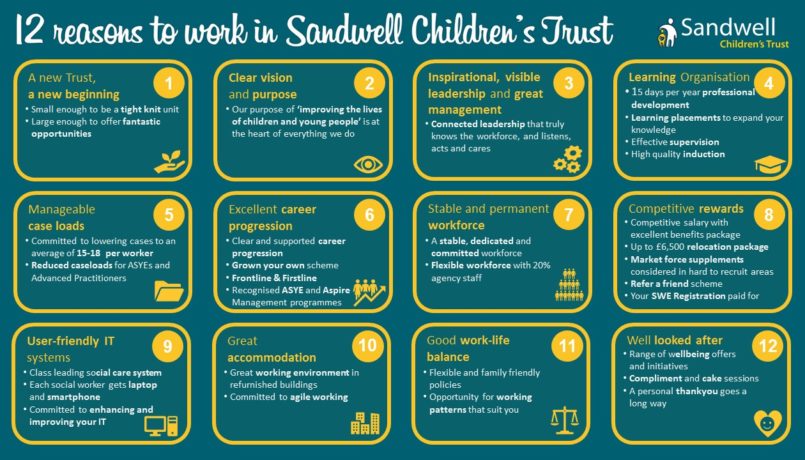 Please scroll down to view all SCT vacancies.
Please note we work with a number of strategic partners across the sector, if you would like your business to be considered in joining our HCL master vendor agreement please email Recruitment_Childrenstrust@sandwell.gov.uk in the first instance.
Good luck with your job search.
Our vacancies
You will find our job vacancies listed on WM jobs
---
Social Workers - Care Management Court Teams
£30,451 - £40,876 per annum plus £2,500 market supplement and the possibility of up to £6,500 relocation allowance: Sandwell Children's Trust: At Sandwell Children's Trust we are committed to delivering positive changes to the children and families of Sandwell. As we move forward on our conti Oldbury
---
Social Worker - Children in Care Team & Care Leavers
£30,451 to £40,876 per annum plus the possibility of up to £6,500 relocation allowance : Sandwell Children's Trust: At Sandwell Children's Trust we are committed to delivering positive changes to the children and families of Sandwell. As we move forward on our conti Oldbury
---
Team Manager - Care Management
£47,845 to £50,900 : Sandwell Children's Trust: Do you have a clear vision of how you can improve the lives of children and young people? Are you an inspirational leader that truly knows it's workfo Oldbury
---
Social Worker - Children with Disabilities
£30,451 - £40,876: Sandwell Children's Trust: At Sandwell Children's Trust we are committed to delivering positive changes to the children and families of Sandwell. As we move forward on our conti Sandwell
---
Foster for Sandwell
Foster Carer Payments vary - please see advert details: Sandwell Children's Trust: Time for a change? If you've been thinking about how to reset your future and find a new direction, maybe it's time to take a fresh look at fostering Sandwell
---
Social Workers - Safeguarding & Assessment Team
£30,451 to £40,876 per annum plus the possibility of up to £6,500 relocation allowance : Sandwell Children's Trust: At Sandwell Children's Trust we are committed to delivering positive changes to the children and families of Sandwell. As we move forward on our conti Oldbury
---
Social Workers - Care Management
£30,451 - £40,876 per annum plus £2,500 market supplement and the possibility of up to £6,500 relocation allowance: Sandwell Children's Trust: At Sandwell Children's Trust we are committed to delivering positive changes to the children and families of Sandwell. As we move forward on our conti Oldbury